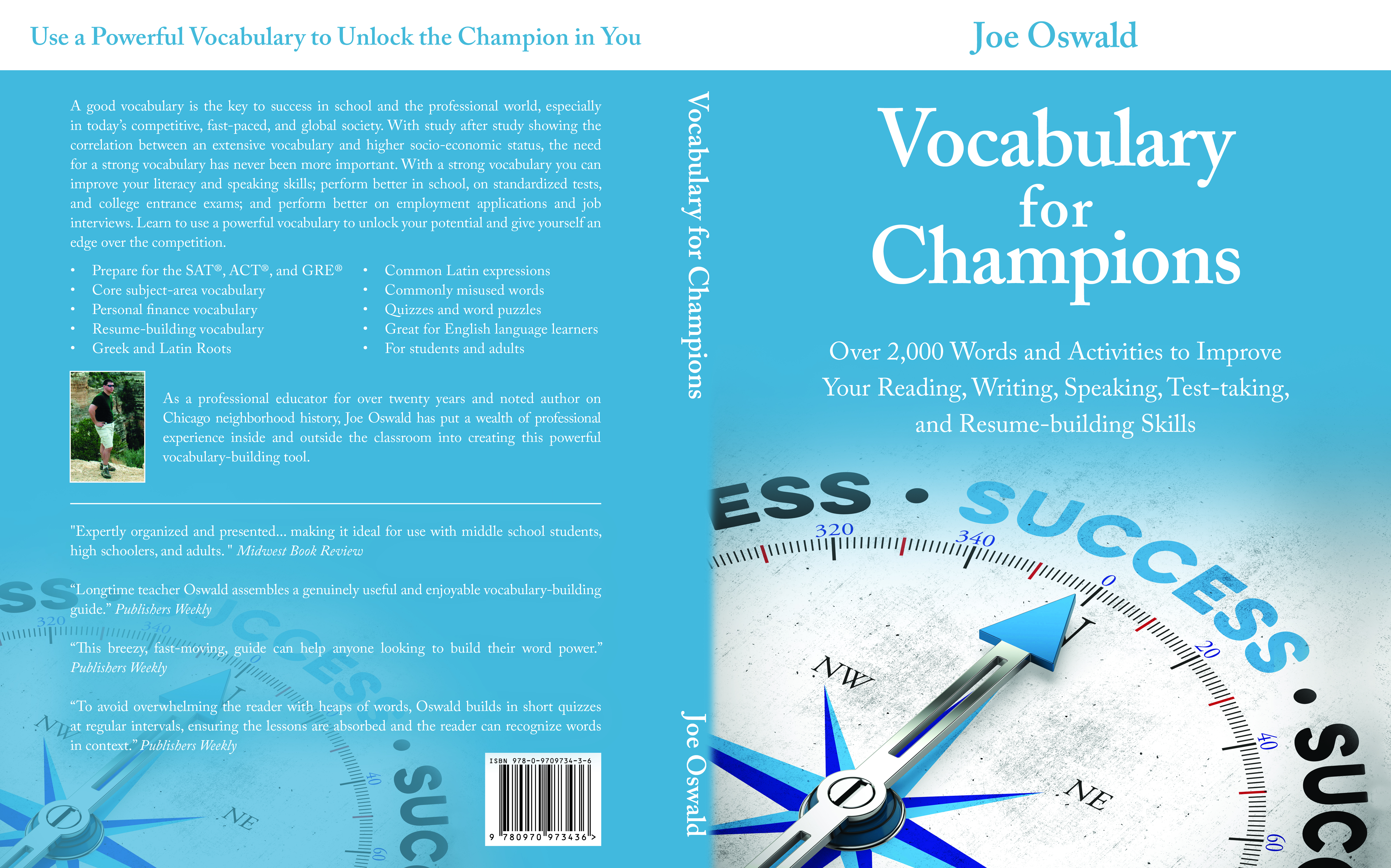 Read a review that appeared March 9, 2020 in Publishers Weekly's BookLife.com
The review is listed below the book's description. The review appeared in the March 9th print issue of Publishers Weekly. Here are quotes from BookLife's review of Vocabulary for Champions:
"Longtime teacher Oswald assembles a genuinely useful and enjoyable vocabulary-building guide."
"Teens and adults at all stages of life can benefit from this well-constructed workbook for learning mid-level English vocabulary."
"This breezy, fast-moving, guide can help anyone looking to build their word power."
"To avoid overwhelming the reader with heaps of words, Oswald builds in short quizzes at regular intervals, ensuring the lessons are absorbed and the reader can recognize words in context."
"Oswald keeps the guide fresh with fun techniques such as crosswords puzzles and word searches."
"By the time the reader reaches the general vocabulary section, the rhythm created by Oswald's method makes it simple to approach new words..."
"The finance section is especially useful, as Oswald digs into terms related to mortgages, assets, and savings plans, educating readers on basic financial literacy as well as vocabulary."
Read the full review from Midwest Book Review
Read an article I wrote about vocabulary that appeared in Christian School Products newsletter
Watch a video tour of the book
Preview and purchase this book on Amazon.com
Read the March 23, 2020 press release
Read the November 2019 press release
● Prepare for the SAT,® ACT,® and GRE®
● Improve reading, writing, speaking, test-taking
● Core subject-area vocabulary
● Economics and personal finance vocabulary
●Resume-building vocabulary
●Greek and Latin roots
●Common Latin expressions
●Commonly misused words
●Great for English language learners
●Complete with quizzes and word puzzles
●Distinguish yourself and outshine the competition
●Recommended for 6th-12th

grades and beyond
Chicago's Historic Beverly/Morgan Park Neighborhood. Published by Arcadia Publishing as part of their Images of America series and featured on Channel 11's Chicago Tonight television show and WBEZ radio, this book is available at bookstores throughout Chicago, including Barnes & Noble. Also available on Amazon.com.
A glacier from the last ice age, Potawatomi Indians, fur traders, railroads, prominent architects, large historic homes, a real Irish castle, bitter annexation battles and the challenges of racial integration are all part of the history of this Southwest Side neighborhood known as "The Village in the City." After the Great Chicago Fire in 1871, the Beverly Hills/Morgan Park community developed as a "country retreat" for Chicago's social and economic elite. Since then, the Ridge Historic District has become one the largest urban historic districts in the nation with over 120 historically and architecturally significant structures. Located just 20 minutes from downtown and boasting of tree-lined streets, mansions sitting atop rolling hills, and the largest average home and lot sizes in the city, this community remains one of the highest socio-economic neighborhoods in the Chicagoland area. In fact, Beverly was recently ranked the third wealthiest neighborhood in Chicago in terms of median income. Despite the neighborhood's beautiful mansions and unique history, the community remains quietly tucked away in an area of the city many people are not familiar with, making it one of Chicago's best kept secrets.
Click on a thumbnail photo to see the full-size cover
Also Available at Your Local Bookstore
Chicago's Beverly/Morgan Park
ISBN # 0-7385-3153-7
Copyright 2003, by Joe Oswald
Copyright © 2021 Joe Oswald